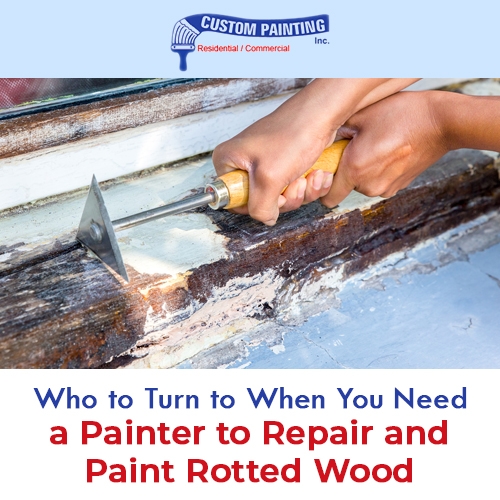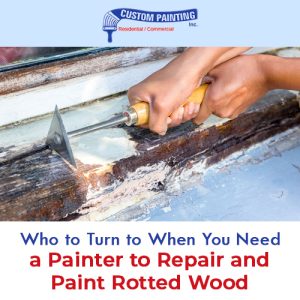 If you have a house built long ago, it's likely to have incurred unsightly damage, such as wood rot. Depending on the damage's extent, you can fix it yourself, or you may need a painter to repair and paint rotted wood.
Rotted wood or wood rot usually occurs on the exterior surfaces of your home. Corner boards, skirt boards, and even windows are some places prone to rotted wood.
How to identify rotted wood?
There are two common types of rotted wood:
Dry rot – Experts will tell you that dry rot is caused by a fungus that attacks timber in buildings by "sucking out" the parts that give it its strength. As the name implies, dry rot can spread even without water or any source of moisture because it can generate moisture by feeding upon timber. Once dry rot spreads, it can severely damage the structural integrity of your home. You might not notice dry rot at first in its early stages, but you might later see it in its advanced stages when the fungus appears in your walls.
Wet rot – Wet rot, as experts will attest, is also a fungus commonly found in buildings with unprotected timber components. It thrives by feeding on the moisture and nutrients from timber but can also cause damage to other materials, including wallpaper, carpets, and plaster. If the timber looks unusually dark and feels soft and spongy to the touch, then it's most likely suffering from wet rot. While it may not be a big issue initially, wet rot can quickly cause more extensive problems, especially if not detected early. Wet rot is also commonly found in cellars, roofs, and around windows. Like mold, wet rot can give off an unpleasant musty odor.
Getting professional help with repairing and painting rotted wood
Not only does rotted wood make your home unsightly, but it can also cause severe damage to its structural integrity. But if you can catch rotted wood in time, and the damage is still minor and has not spread extensively, you can successfully repair and paint (or stain) the damaged area.
Otherwise, choose a professional painter who can repair (or replace) rotted wood and paint, especially if the damage has become severe.
Read on to learn why you should hire a professional painting contractor. But first, make sure that the paint contractors you're hiring have significant experience working with rotted wood.
Professional tools and experience – Professional painters have the proper tools and many years of practical experience necessary to effectively repair or replace wood rot and restore the appearance of your home. If you need a wood rot repair and paint job done right on the first go, you'll get your money's worth by hiring a professional painter.
Efficiency – Due to the combination of skills, experience, and professional tools, painting contractors deliver their jobs efficiently, saving time and money. Repairing rotted wood and painting can be time-consuming, especially if you're unfamiliar with the tools and necessary procedures. Professional painters can complete repairs much faster than the average DIY painter. And, with someone else doing the work, you can use your time to focus on more important things.
Enhanced safety – Repairing rotted wood and painting over it can be risky to one's health and safety. This job may cause health problems like rashes and respiratory issues, as well as hazards such as the structural weakness of your home. Professional painters have the experience, tools, and safety gear necessary to assess rotted wood in your home, both exposed and unseen. Applying their professional knowledge, these contractors can ensure that your building is free from decayed wood and thus safe again to occupy.
Cost-effectiveness – Hiring a professional painting contractor to repair and paint over rotted wood instead of trying your hand at DIY-ing can save you money. A team of skilled painters will come to your property equipped with the tools and equipment necessary for the job, so you don't have to bother buying things that you'll only use once. In addition, the pros will do the job right on the first go, which means you won't suffer from a bad paint job that you'll have to correct, which would mean more expenses.
Damage prevention in the future – No one wants to be constantly bothered about rotted wood. Hiring a professional painting contractor, particularly a contractor with practical experience in treating rotted wood, can assure you that their repairs and maintenance will be done correctly and are meant to last for several years. If you ask professional painters and builders whether to repair or replace rotted wood, they will undoubtedly recommend replacement to prevent the rot from spreading further.
If you need a painter to repair and paint rotted wood, hire only certified professionals with experience in working with rotted wood. They will apply their skills and expertise to repair rotted wood and restore your walls to their original appearance and beauty.
Working with a reputable painting company saves time, money, and trouble. Custom Painting, Inc. offers wood rot repair, replacement services, and interior and exterior painting. Contact us today for a free estimate!