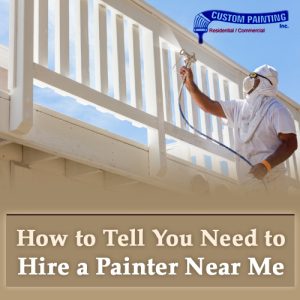 A home needs a new paint job every now and then. Painting your home in Concord, Danville, Walnut Creek, or anywhere in the Bay Area protects it from the weather elements, keeps it looking good, and helps increase its value. So, why hire a painter near me when you can paint your home by yourself to save money?
You can certainly hold a paintbrush and apply paint on the wall. But painting a home by yourself can take a long, long time. Also, if you don't have enough experience, don't have the proper tools, or are not mindful of safety, your paint job could end up a disaster.
How can you tell if you need a professional for your painting project? 
Without further ado, here are the key signs conveying that you need a professional painting service for your home.
When was the last time you painted your home? Paint deteriorates as time passes. If it's the case in your home, it's a sign that it's been a long time since you had your house painted. To keep your home in excellent condition, you need to get a paint job every five to ten years, depending on how well the current paint job holds up.
If your paint is fading, peeling, cracking, or chipping for various reasons, it's time to hire a professional painter. They will check the condition of the paint and suggest the ideal solution for the walls.
Cracking is one of the most obvious signs that you need to have your home repainted. Because of years of weather and climactic conditions, your home undergoes wear and tear. Thus, the cracks are visible from the building's structure and can lead to more significant surface problems.
When you want a new paint color
There are various reasons for switching to a new paint color. But mostly, it's plain boredom. You're bored of the same neutrals that dominate your home, and you want a new color that matches your personality.
Or your home looks too glum, and you want to bring in some positive energy with brighter or more cheerful colors. You may want to make a statement or want your home to stand out in your neighborhood. In that case, professional painters can help you choose the perfect colors and do the work for you.
Damage caused by water or moisture
Water, moisture, or dampness may cause your home various problems. They include water stains, mold and mildew, and wood rot. Not only do they make your home look ugly, but they can also cause further damage if they're not addressed promptly. Hire only professional house painters to eliminate any of these problems. They will determine the underlying problem (such as leaks due to faulty plumbing or a specific part of the house that is not exposed to sunlight) and find solutions to restore the original look of your home – or even enhance it!
Benefits of hiring a professional painter
Sure, there are benefits to doing the paint job by yourself. However, you'll get far better benefits from hiring a professional painting company in Hayward, Livermore, Pleasanton, or any Bay Area city.
You may struggle to find a free moment to paint your room unless you have lots of time to spare. Professional painters will devote almost their entire time to the project, which also involves removing wall decor and furniture, prepping the walls, and cleaning up after painting. With a professional painting contractor, you can save your precious time and focus on other things that matter more to you. Leave the job to a company that does painting for a living!
Painting can be a stressful job. It's more than just applying paint on the wall. It also involves a lot of other things:
Planning and preparation
Buying the paints and materials
Doing all the prep work
Plus, there's the cleanup, disposal of debris, and putting all your items back into your house after painting. Hire professional painters to do the work for you instead and make your painting experience less stressful.
Sure, you can paint walls decently. But nothing beats the work of a professional painter – a solid finish, clean lines, and no ugly or lap marks whatsoever. If you ever worry about not having clean lines, hire a professional paint company. They know the proper way of taping the edges and know which paint application method works best on the type of walls your home has – brushing, rolling, or spraying. You know you are in good hands when you have a professional paint crew working with you.
If you are ready to start your next house painting project in Lafayette, San Ramon, or any Bay Area city, you'll know what to do. Hire a painter near me, such as Custom Painting, Inc. From painting exterior walls to kitchen cabinets; we do them all!