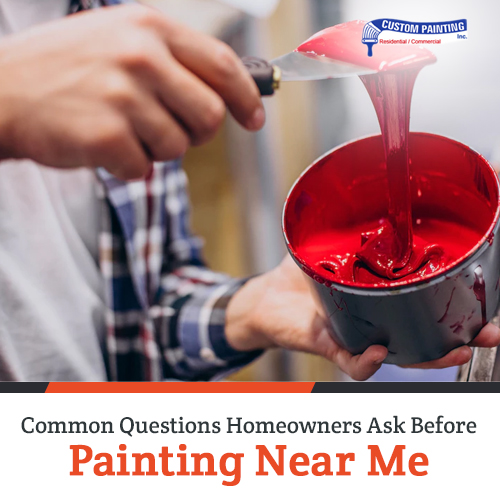 Even when you've not yet decided on a contractor to do your house painting near me project, some questions pop up inside your head. "How much does hiring a professional cost?", "How will I know if the contractor I'll be hiring is licensed and insured?" or "How long will the job take?" are some of these questions you might think of asking.
Before these questions fly out of your mind and you might not be able to recall them again, it's better to write down a list of such questions. You will consider the helpful list when you talk with potential contractors. 
These common questions will help you size up these candidates while vying for your job. As you get to know them, the better you're informed. Thus, the surer you are in your final decision is to hire the right contractor to paint your home.
1) Are you licensed?
Every circumspect homeowner will ask a painting contractor such a question, and you cannot blame them. They want nothing less than a quality job from their contractor. Having a license means that the contractor has proven basic knowledge of painting techniques. It also means that the contractors will have something to lose should they not perform their job well or even act unprofessionally toward their clients. Custom Painting, Inc. has all the valid and appropriate licenses. When working with us, our team assures you of quality service and professionalism.
2) Do you carry insurance?
Workers will come to paint your property. Despite significant improvements in safety measures in the workplace, accidents and injuries still occur, as well as unintentional property damage. The contractor must hold general liability insurance and worker's compensation insurance. These insurance policies will allow the contractor to cover any medical needs and property damage should the worst happen. If the contractor is insured, they will save you from the obligation of having to pay medical bills and cover the cost of your property if it is damaged during the job.
3) How long will the job take?
It depends on the job. Discuss your available time with your contractor regarding the scope of the work. However, some paint contractors guarantee that the job will get done within ten working days or less. For example, it may take a day or two to paint the bedroom walls or three to four days to complete an exterior paint job on an average-size home.
4) How much will the job cost?
We know how much you want to save money on a paint project and want a professionally done paint job. However, low prices are not always the best option. If the contractor offers you a low price, please consider it a red flag because the contractor may only be after your money. Remember that low pricing likely means low-quality work. 
To be sure, request estimates from at least three different contractors who have the potential to work for you. Then, compare each of the estimates. Ask them questions you would like answers to, such as the paint brand they use, the number of coats of paint (most painters usually apply two coats of paint), and the level of prep work.
If you want to cut costs, you may request the contractor to allow you to contribute to the project by doing the cleaning and prep work yourself. You can discuss this matter with your potential contractor.
5) What brand of paint do you use and why?
Reputable paint contractors usually tell you about the type or brand of paint they use. Custom Painting Inc. primarily uses paints from the Kelly-Moore Paint Company. If there is another brand that you are interested in using, you can talk to our estimator. You should expect that the job's overall cost may change due to switching paint brands.
6) Can you advise us on how to choose a color?
Choosing a color can be, in fact, quite daunting. There are hundreds or even thousands of colors from which to choose. And how the colors look on swatches may look different once they're on the walls. The lighting, architecture, wall texture, and room decor are some factors to consider when choosing a paint color. When you consider these four elements, the right color will provide balance and harmony to the space.
If you are unsure what paint colors you want, Custom Painting, Inc. can help you with this matter.
7) Can I trust your employees?
Your potential contractor should answer "yes" to this question. Custom Painting, Inc. employs its workers, not subcontractors. We also check our employees for reference and conduct criminal background checks on them.
8) Can you provide references?
Painting contractors are accustomed to hearing this question from potential clients. Custom Painting, Inc. can provide you with references, including contact information for several satisfied clients and even a portfolio of images of our recent work.
9) Do you provide a warranty?
Reputable contractors should provide you with a written warranty of their work. No matter what type of job – residential or commercial painting – Custom Painting, Inc. provides a full five-year guarantee on our work.
Finding a paint contractor is never easy, but you can do it. If you still have questions to ask before painting near me, Custom Painting, Inc. will be happy to help you through this process. Set up a schedule with us for a free estimate today.