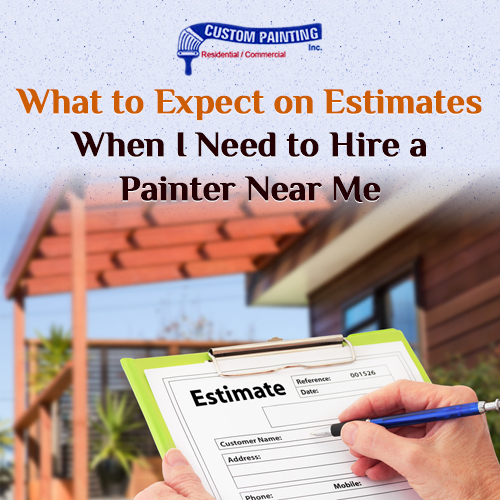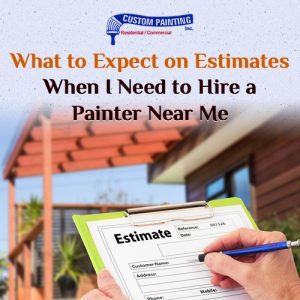 When I need to hire a painter near me, a proper and well-thought-out plan is essential. Everybody knows that painting a home is a significant investment. Without a plan, your project can lead to several hundred dollars down the drain.
While you're probably concerned about how much you will spend on your project, you shouldn't hire a contractor based on pricing alone. The right contractor should offer the right price that matches the quality of their services: competitive, honest, and professional.
Estimating a painting project is challenging, even among experienced painting contractors, but most especially for those new to the painting industry. They know the various factors to consider and plan to achieve the best results.
As a homeowner and client, you want to stay on your budget and want a beautifully painted home protected against outside environmental elements. Naturally, you should expect the contractor's estimate, which will help determine if their service fits your budget.
First, a painting contractor should provide you with a free and no-obligation estimate upon request. It is one of the indications of a decent and reputable contractor. You should request an estimate each from at least three different contractors for comparison.
A good painter's estimate should be accurate and truthful. It typically contains every detail of the breakdown of project costs, including costs for labor and material.
1) Explain your project in detail
The painting contractor won't be able to create an accurate cost estimate without visiting your property and talking to you first. As you're speaking to the contractor over the phone, invite them to come to your home to discuss your next painting project.
Once they arrive at your home, walk the contractors through your property to ensure they're aware of the more complicated or hard-to-reach areas. This could affect the pricing of the contractor's estimate. The estimator will assess the site to determine how much prep work, how many coats of paint it requires, and how long the project would take.
It's also important to explain to the contractors the project's specifics. The more details you can provide during the walk-through, the more accurate the contractor's estimate will be. While explaining the project's scope, the contractors should actively listen to you to fully understand it.
2) Let the contractor provide you with further information 
As you discuss the upcoming project, the contractor will offer you as much information as you need. They will be able to discuss:
Their company's history
Their experience
Referrals by former clients
How their process and technique work
Their estimated project timeline
Paint recommendations
The contractors may even have a business card, leaflet, or anything else handy to give you further information about their company. If not, you may want to ask them to send you a follow-up, so you have something to refer to if you have questions before hiring them.
3) Ask questions
Treat this estimate process as a sort of job interview. Ask the contractor with appropriate questions to make sure they're the right person for your job, such as:
How long has your company been in this business?
Do you have a valid license?
Do you have liability insurance and worker's compensation insurance?
Do you have experience with this type of paint job?
How will long will this project take?
Do you hire your employees, or do you subcontract?
Will I feel comfortable around your workers on my property?
After you meet with the contractor, they will create the estimate. It will usually take the contractors a few days before delivering the complete cost estimate, usually by e-mail. Some painting companies will hand you the estimate before they leave your property. Once you receive the estimate, review it thoroughly and carefully.
Here are the typical factors that drive the cost estimate:
Travel costs
Scope of work
The amount of prep work
Materials such as paint and tools
Labor costs
Usually, a gallon of paint costs $15 to $40 per gallon, while labor costs generally go from $20 to $50 per hour—the average house painting project costs between $2 to $6 per square foot. The more extensive and complex the project's scope, the longer it will take for the contractor to complete it and, consequently, the costlier the job will be.
Details are essential. A reasonable estimate should include detailed information and a complete breakdown of the project costs. Once again, you should request an estimate each from at least three different painting contractors for comparison. As you read and compare multiple estimates, expect the total cost to be the average industry standard. There's a good chance that their pricing may differ slightly.
If you notice that one cost estimate is significantly higher or lower than the others, ask the contractor to explain their pricing. Beware of contractors who bid too high or too low. Unscrupulous contractors wanting to win the job will lowball the bid, then later sneak in the unexpected fees due to "new requirements" that would arise during the project. Other contractors may not bid that high but will rush through the job and cut corners using lower-quality paints and tools. They may not complete the job at all! So, keep an eye out for these red flags.
If a particular estimate looks good, ask the painting contractor to provide you with a written contract. Having a written contract is crucial in any professional home improvement project because it will help ease down any communication issues and protect you in case accidents happen during the project.
Hire the trusted local painters in the Bay Area
When I need to hire a painter near me, you can be confident that Custom Painting Inc. is above board in customer service. We have more than 40 years of providing quality residential and commercial painting services to cities in and around the Bay Area. Our estimates are always free! We will answer any questions regarding our estimate and provide further details if desired.