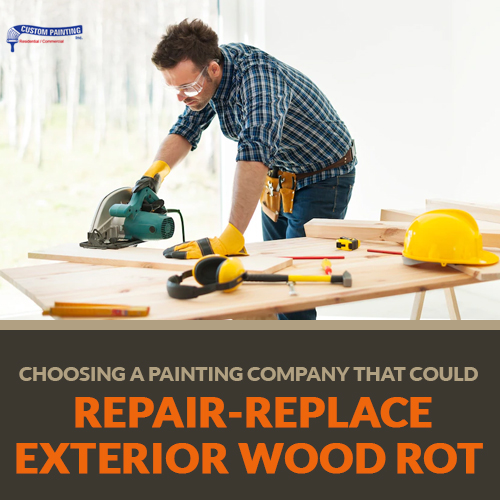 Our home's exterior surfaces protect us and our belongings from the outside elements – heat, moisture, and pollution. That's why it's crucial to inspect your wood siding. If any damage occurs – such as wood rot – it's vital to address it immediately. Finding a painting company that could repair-replace exterior wood rot will save us from the trouble of doing the grunt work.
But how would you know if the wood rot needs to be repaired or replaced? And which one of them is the better measure to address wood rot?
Not only is wood rot an eyesore, but it can pose a safety hazard and legal liability if the rot spreads and causes damage to the other areas of the siding and perhaps even the structural parts of the house.
Signs that your siding needs repair or replacement
1) Rotten boards – If you notice an area of your siding that's rotting, it's time to repair it. It can be easily fixed depending on how far the rot has spread. If any boards are crumbling or beginning to rot, you can get by repairing them. But if the rot has traveled quite far to the other areas of the siding, you might have to replace the siding.
2) Mold and mildew – Some areas of the siding are exposed to moisture, which may be the place mold and mildew breed. If you see mold and mildew on your siding, address it immediately to solve the problem.
Consider inspecting your home's exterior siding, especially the shaded areas, areas not directly exposed to the sun, or damaged siding, which may allow the moisture inside. Once you've found the moisture inside your home's siding, mold and mildew can spread across your home's exterior. 
Like rotten boards, how far mold and mildew (and the damage caused by them) spread can help you determine whether you need to repair or replace the boards. Mold can spread quickly to the other areas of your home's exterior. Once your exterior is infested with mold, little can be done to fix the damage. In this case, you need to replace the siding.
It is also a good idea to look for signs of mold and mildew on your home's interior walls. Look at the interior walls where the siding is on the opposite side. If you notice some tiny black specks, it's most likely mold.
3) Warped boards
Wood siding is exposed to several types of weather and seasonal changes. The heat and moisture can weaken the material and cause the boards to warp.
As you walk around the exterior of your home, check the siding closely from several angles. If you notice that some boards are not looking flat, bulging, or sticking out, deal with this problem immediately.
Warping could also be another sign that there's a deeper problem behind it. The good news is that warped boards are easily repaired. Contact your handyman or paint contractor. They will diagnose any problems they see and provide you with steps to correct the warped boards.
4) Rising energy bills
What's the connection between damaged wood siding and skyrocketing energy bills? If you've noticed your energy bill has gone up significantly and unexpectedly, it may be a sign to have your siding replaced. If you feel cold drafts near or around windows or electrical switches and your energy bill has skyrocketed, they're likely signs that your siding may have become too old and no longer perform its job.
Replacing your old siding with a new one will give your home solid protection from the cold drafts, thus saving you money on heating and air. Choose a siding that looks good that will also save you money.
Should you hire a professional?
Many homeowners believe that repairing or replacing their home's siding is something they can do themselves. That way, they can save money on materials and labor.
If you have experience repairing the siding, primarily minor fixes, you can probably do the work yourself. But replacing the siding is a different story; thus, you may need to hire a professional painting contractor.
Time and money are significant concerns in a home improvement job. While a DIY job may save you money, it may take you more time to complete the work. Hiring a paint contractor to repair or replace your siding may cost you a lot more. However, you will get several benefits from having professionally done work, such as a quick and efficient job and excellent, long-lasting results.
Hiring a painting contractor can save time and labor. It will also save you money in the long run. It can take a professional team a few weeks to replace the siding of your home, depending on the size of the work, the severity of the damage, and weather conditions. Consider the cost of your time and decide if it's worth saving a few hundred dollars.
If you're ready to update the look of your home's siding, contact a painting company that could repair-replace exterior wood rot, such as Custom Painting Inc. Our professional team has handled numerous siding and paint projects with excellent and long-lasting results. As a reputable contractor, Custom Painting, Inc. offers a full five-year warranty to back the quality of our work.