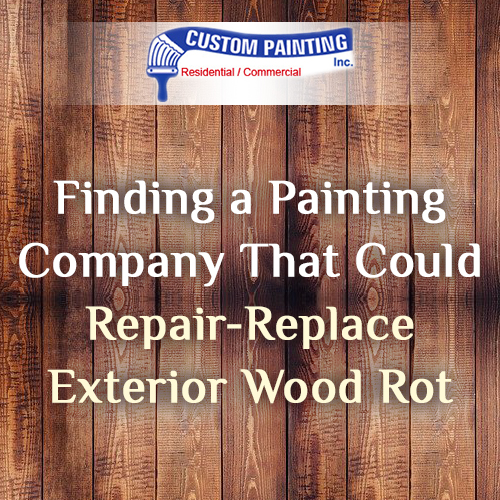 It's essential to check your home's exterior now and then, especially when exposed to weather elements over time. It may have sustained some surface damage, including wood rot. When this happens, you may have to fix the problem by yourself or, better yet, hire the services of a painting company that could repair-replace exterior wood rot.
Wood rot can be found in areas with moisture, humidity, or temperature fluctuation. There are areas of the wood that are wetter than the others due to moisture intrusion. While you can't prevent the weather, you can always inspect your home's exterior for wood rot and prevent it from spreading as early as possible.
There are two ways to address rotted wood on your home's exterior – repairing or replacing it. Depending on how much damage there is or if the damage can have a structural impact, you may choose one of the two methods.
Determining the extent of the damage.
First, you need to find out how deep and widespread the wood rot is. Get a knife, a screwdriver, or any other pointy object, and poke into the affected area. If the material goes into decay with little resistance, it means the rot has become severe.
Of course, it may have been an isolated rot that may affect a small wood area. In this case, you can get away by repairing it, leaving the rest alone. But if the decay affects a significant portion of the wood, you're better off replacing the wood entirely before it can affect nearby parts.
When to repair and when to replace? Which wood is structurally important?
Wood rot doesn't only make your home's exterior ugly, but it could lead to further structural damage when not addressed promptly. Some wooden features are more important than others. For instance, you have spotted a noticeable rot in one of your wooden deck's support beams. You need to address this problem so that the foundation won't collapse. For structurally important wood parts like that one, replacement is always the best solution, even if the rotted area seems small and insignificant.
For aesthetic wood features, such as trim and decorative railings, replacement is often optional but unnecessary. Since such wooden features don't have any structural implications, repairing them is relatively quick and easy. Professional painters usually remove the rot and fill the affected area with a polyester filler and wood hardener. Next, they will paint or stain the newly repaired area to make it appear seamless.
How about the cost?
Safety is always a top priority, even if you have concerns about the budget. So, keeping the cost in mind should help you decide whether or not to repair wood rot or replace it. Both jobs require the time and effort of professional carpenters but replacing wood may be more involved.
Why hire professionals for wood rot repair and replacement?
While you can do the wood rot repair or replacement yourself, it is more sensible to hire professional painters to address the problem. It's not just because they're trained for the job, but they also do this regularly.
More often than not, rotted wood is found in areas that homeowners don't usually see. Knowing where to find rot is something pros are good at – they know where to find wood rot. They can identify the earliest signs that can form or spread. They know how to repair or replace rotted wood – they have the skills, the tools, and the equipment to do the job efficiently. After repairing rotted wood or replacing the affected area with new wood, the pros can match the finish and look to the rest of the existing exterior wood for a seamless finish.
If you're still unsure whether wood rot should be repaired or replaced, ask a painting company that could repair or replace wood rot. The residential painting experts at Custom Painting Inc. have years of experience inspecting, identifying, assessing, and repairing or replacing rotted wood. Rely upon our services to complete the job and make your home's wooden exterior features look good as new. Contact us for your exterior painting estimate today!