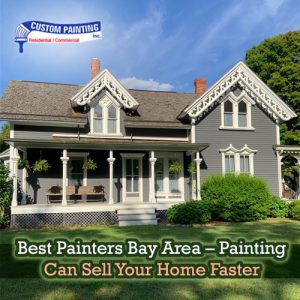 Any time is the best time to sell your home. It only takes the best painters in the Bay Area to make your house 100% ready for staging.
Impressing potential buyers is quite a challenge. But as long as you show off your home's best assets – and have it dressed up with a fresh coat of paint with the right choice of colors – you can sell your home quicker and possibly for a higher price.
And we all know how stressful the process of selling your home can be. It involves specific regulations, procedures, and goals that are pretty different from general painting projects. That's why there are the top property experts to help you sell your home at its highest value with little renovation work as possible. Painting is always seen as a relatively quick and cost-effective solution to make your home look brand new and ready to be put for sale, especially if you are planning to move out of your current home soon and want to sell it as quickly as possible.
Increase the chances of selling your home quickly by updating its curb appeal. Of course, sprucing up the interiors of your house is also essential. Still, if you want to get potential buyers into checking out the interiors, you should make your home's exterior inviting and attractive.
According to an analysis of homes conducted by Zillow in 2019, the average cost of updating a house with paint (both interior and exterior) and doing basic landscaping was $3,000. It looks like a lot of money, but as long as you choose the right paint colors for your home's exterior and do the proper surface cleaning and preparation before painting, you can quickly get your $3,000 back and then some.
So, how to choose the right colors for your home's exterior? Here are the following suggestions:
Consider your neighborhood – You want your home to stand out in your community. But you don't want it to clash with the surrounding houses. Take a short walk around the neighborhood and look at your neighbor's homes. It also depends on the area in which you live. For example, if you live in Florida, it would be all right to paint your home in mustard yellow, pink, peach, or purple. But if you live in Colorado or Utah, these colors would not be a good idea. Choose a color that blends well with the environment.
Stick with neutrals – If you're hesitant about painting your home with other colors, neutrals are always a safe bet. Colors like white, light gray, taupe, beige, and greige (gray and beige) will go with just about anything and have the best overall appeal. Neutrals will also give new homeowners a "blank canvas" to paint with their preferred colors if they so wish. Give your home some subtle contrasting colors such as light gray for the siding and white for the trim to highlight its architectural details and make them more attractive to buyers.
Consider your home's architecture – The phrase "one size fits all" does not apply when it comes to exterior paint colors. So, consider which color is best for your home, which also means looking at its architectural style. Every home has a color scheme or palette that will best fit that style. For example, a three-to-five color scheme is the most common among Victorian homes, which are typically painted with deep shades of red, amber, gray-blue, green, and white.
If you choose the right colors and shades and have the best painters in the Bay Area to paint your home, your staging will turn out well, leading to a quick and successful sale.