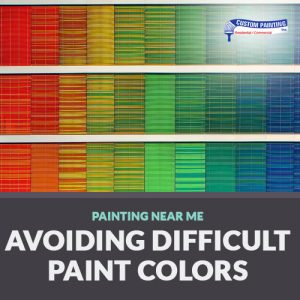 When finding someone to do painting near me, selecting a color is often one of the most important parts of the job. But it's also one of the most challenging for many. While you have some favorites from hundreds of color paint chips, you're still having a difficult time picking the colors that would finally make their way to your home.
If you've worked with colors before, you probably know the distinct difference between the color in the paint chips and the final color that appears on your wall. You may love a particular paint chip color, but you hate seeing it on your walls. It's not unusual because other homeowners express the same sentiment. That is why many end up with white or beige walls because they are afraid of making mistakes from choosing bold colors or vivid shades.
Many homeowners have difficulty "getting it right" with certain colors. And if you think you also have trouble with any of the following colors, you're not alone.
Red
Red is considered a problematic color because several hues aren't meant for wall space. The rich raspberry red may look fabulous on lipstick or nail polish, but it can look incredibly overpowering in your room. Too much brown in red, on the other hand, may make your room appear drab and boring.
Because red is such an important color, it requires subtlety, depth, and nuance to keep it fresh from time to time. You may need to touch it up every few months to maintain its look.
Taupe
Taupe is also difficult to paint. The combination of earthy (brown) and neutral (gray) may make this shade seem like an easy and safe choice. But taupe can be a challenging color, especially when matching it with other things.
Taupe's undertones can either go green or pink. The biggest problem comes when combining the two colors. For example, if you mix green and pink in a two-toned display, you'll see a tragic result right away. It is best to look for the hue by comparing it to shades of red and green – and you'll quickly get the tone. Make sure to match with that color combination to achieve the right look.
Blue
Blue is everywhere – after all, it is the color of the sky and the ocean. It is not surprising that people want blue for their rooms because it is a cool and soothing color. But when they see blue on the walls, it can be too overwhelming, especially if the wrong shade is chosen. Some blues tend to appear gray. You can add gray to the blue to tone down its vividness, and your entire room will look more soothing and agreeable.
Gray
Gray is a beautiful and versatile color; however, most shades of gray may look a bit too "metal" in a room. Gray can be matched with other colors. For instance, you can pair gray with white trim and accessorize it with any color of your preference. However, gray can be pretty challenging. To solve this problem, choose gray that trends toward blue to prevent it from looking too metallic on your walls.
Since house painting near me can be a big project (and not to mention an investment), use only top-quality paints and materials and follow the proper surface prep and painting procedures. And don't forget the right wall colors! Choosing the wrong colors will be a costly mistake, so make sure to put a lot of consideration and thought that would help you choose the right colors for your space.