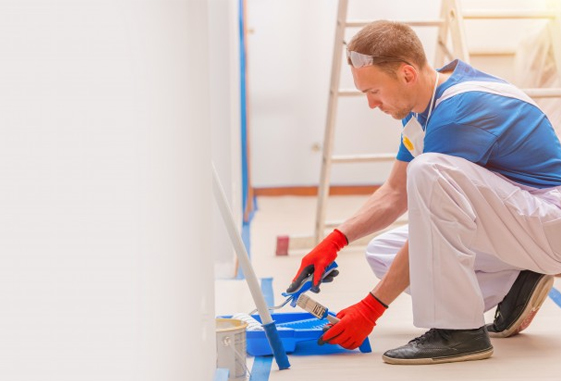 Choosing and matching paint colors when house painting in Pleasant Hill sounds like fun. While it is actually fun to add colors to your room, having to choose colors that match can be difficult. You may have found a style that you are sure of but have no idea about picking and matching paint colors.
Here are some tips to help you match paint colors for house painting in Pleasant Hill:
Which items in your room are your favorites? Look at those items and choose a color from those items. You don't have to match the color of the rug or artwork, specifically, but you can use those colors as inspiration for the walls. Try picking one that is several shades lighter or darker to create harmony in the room.
Many people seem to ignore the floor. But this is the second largest surface of a room aside from the walls, so it has its own color. Be it a marbled or wooden floor, it even has its own shades. The floor may greatly affect how the wall paint looks.
You can also pick color inspiration from your home's fixtures and furniture. For instance, if you have dark furniture or fireplace, use lighter colors or crisp white to make these items stand out. Natural-colored cabinets or railings may look best against colors that are a couple of shades darker to create harmony.
Look around the room being painted. If you have a cozy living room or study, or one that allows plenty of natural light, choose a deeper color. Darker colors do well in these types of rooms. However, use these colors in small amounts to add depth and focus to certain areas of your room.
Bring eclectic elements to your colors. Don't hesitate to mix colors that may not seem to match. There are so many colors to choose from, why confine yourself to just one or two colors? Consider using two different colors on one wall by painting stripes or chevrons. You can also use different paint finishes to create a more decorative effect. For example, paint the whole wall with a paint of a flat finish, and let it dry. Once dried, you can decorate the wall with a stencil, this time using the same color paint but with a glossy finish.
Unfortunately, you may realize that the paint color you thought was the right color turns out to be the wrong choice once it's painted on the wall. Repainting may address this error. This option can be costly and will take time to do.

In order to avoid this problem, it is best not to rush when choosing colors. One way of determining if a color is the right one, is to take paint chips or color swatches that you like home. Hold the color chips up to your furniture, floor, door, in your room. This will help you envision these colors on the walls.

The best way to prevent picking the wrong color paint is to take home paint samples the colors you like most. You can take as many paint samples as you want, but we recommend that you narrow your choices down to less than four colors at a time. Then, start testing by painting the color samples on the wall. Be sure to cover an area large enough to see how the color suits the room and your furnishings.

Another way to avoid the wrong color is to find digital software or online applications that will help you choose the right paint color. Several painting manufacturers offer websites with applications to enable you to preview your home with the colors that you are considering. These apps will also let you experiment with various colors and shades. Luckily, most of these paint color preview apps can be used for free. The most recommended websites include CBN Selector, Benjamin Moore Personal Color Viewer, Sherwin-Williams Painting Images Color Simulator, and many others. In just one click, you will be able to visualize what a paint color would look like on the walls as if it were actually painted.
Choosing and matching paint colors can be a hard task, but trying these suggestions can make your job a little bit easier, and maybe even more fun. These tips will enable you to choose the right paint color when you're doing house painting in Pleasant Hill.