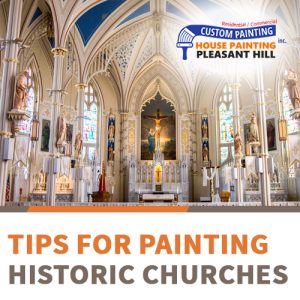 Churches, mosques, and synagogues are not just another building. Painting them has several unique challenges, and painters in the Bay Area may find historic churches even more challenging to deal with. As painters are aware that these are places of worship, the concern is to maintain the feeling of sanctity, relaxation, and calm inside them.
The variables in the structure of old churches, such as age and materials, make them particularly intimidating. However, these variables can tell you which part of the church you should focus your attention on and what is the best way to restore it.
All it takes is an appropriate color scheme that can make all the difference in making your church visually stunning. Choose the best color that will set the mood for prayer and worship.
Like every project, painting a church requires surface prep work to ensure the topcoat adheres well to the walls. Of course, each church is different, making the job either big or small. Expect some unique obstacles to this task that must be discussed before the project starts.
First, though – cover the pews or move them out?
If there's a small amount of painting work to be done inside the church, then there's no need to move the pews out. Instead, you may simply cover it with plastic sheeting and work around them. It's better if the plastic sheeting is secured down to the floor so that it won't be blown away, exposing the pews.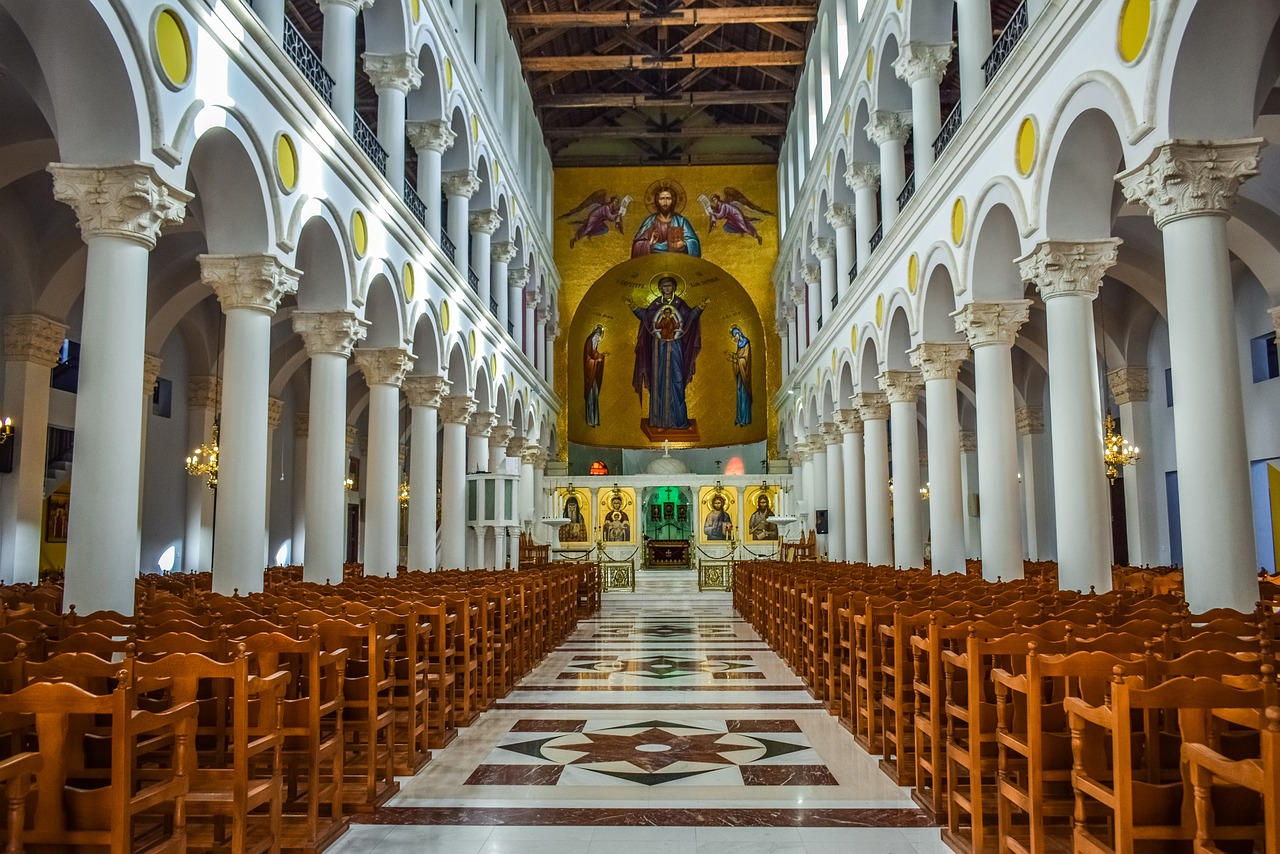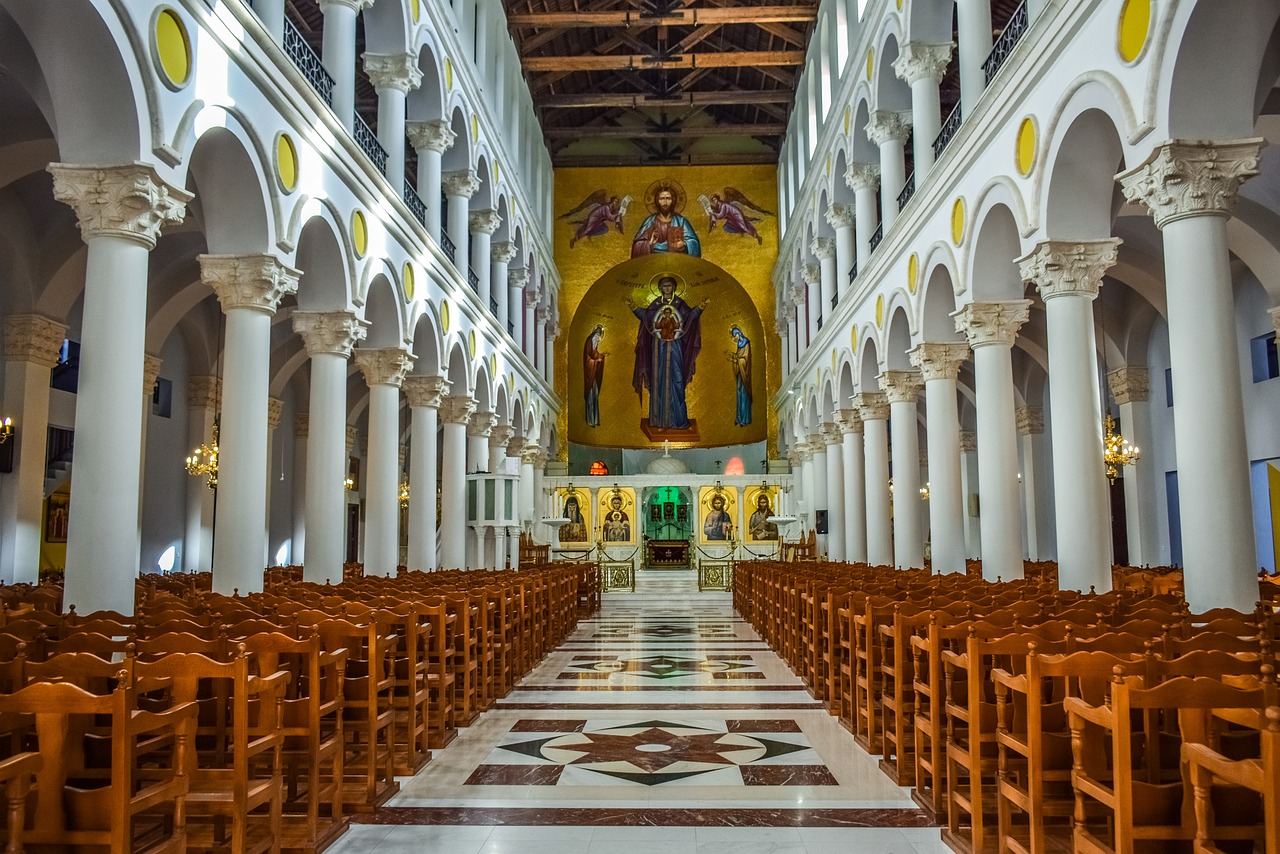 But if you're painting in a larger church with high ceilings, it's likely that you're going to do overhead paintwork. In this case, you may be tempted to move the pews out to a temporary location until the project is completed. 
However, moving the pews can be a huge undertaking. Besides being heavy and cumbersome, pews can be easily damaged if not handled carefully. In many churches, pews are permanently fixed to the floor. If removing pews from the floor is necessary to facilitate the paint job, you must mark each of them with their location so that they can be reinstalled in their original homes. Failing to do so can be a source of great frustration as the mounting hardware won't probably line up correspondingly between each pew and where it's mounted to the floor, so there's a big chance that the replaced pews won't set firmly or even become wobbly.
Due to the potential for issues, many painting contractors in Pleasant Hill won't probably be too willing to move the pews out. Instead, they may ask the church property owners to take care of the task before embarking on their paint job. 
Use stable scaffolding when painting higher walls and ceilings
Churches with high-vaulted ceilings require temporary but stable specialized scaffolding systems that can be assembled and disassembled around the church's regular hours. The team at Custom Painting, Inc. has the training and experience to work on complex scaffolding setups safely that will allow them to paint high walls and ceilings.
Prepare the surfaces for painting.
Like all painting projects, surface preparation is an essential step to achieve a successful paint job. Historic churches are likely to have surface flaws, like cracks and fissures, due to age. Thus, such surfaces require repair prior to applying a fresh coat of paint. 
Keep in mind that historic churches have walls and ceilings built with plaster, which used to be the major wall material long before drywall was introduced. A painting contractor should have experience with different surface materials that range from old plaster to drywall.
Picking the best paint color for the church interior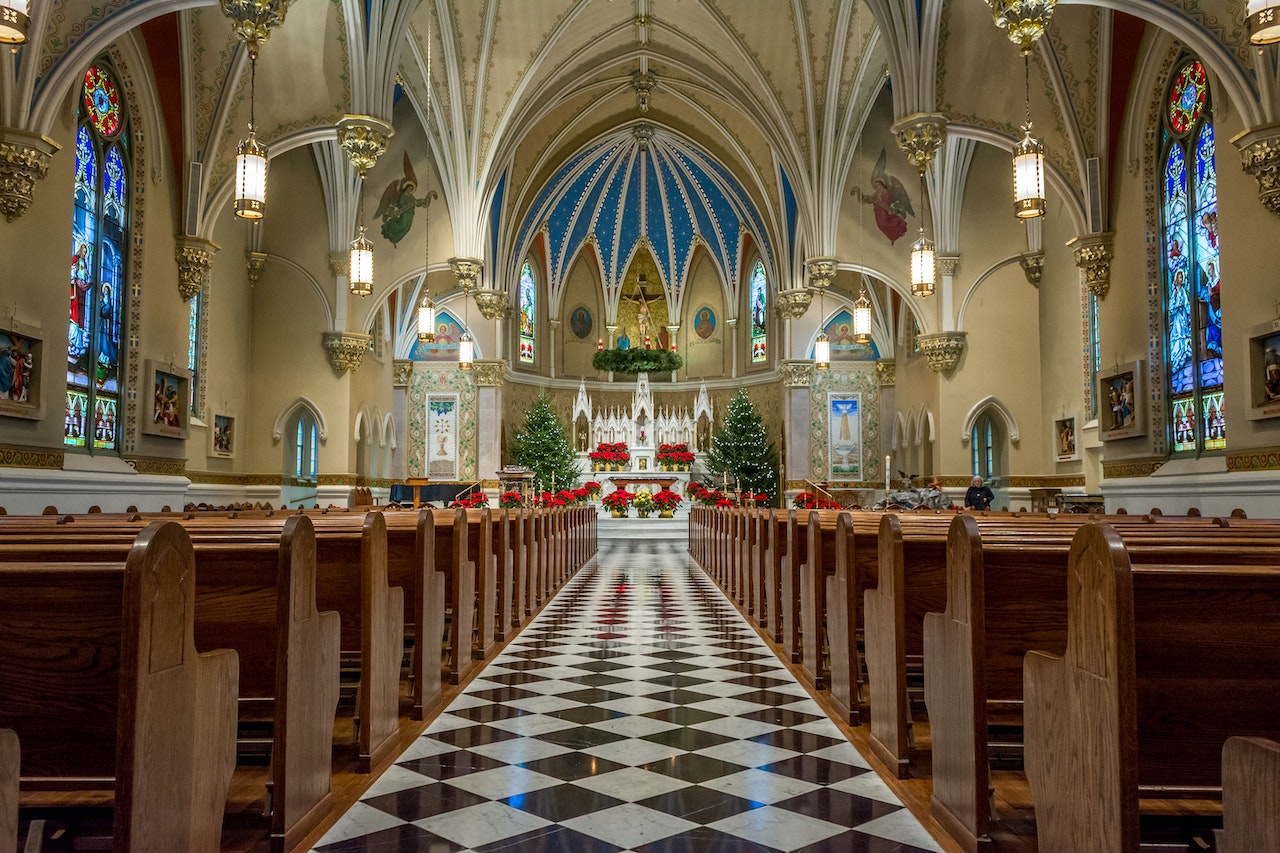 Color plays a vital role in the church's interior design. These colors can be traditional or trendy. When it comes to painting historic churches, it is best to choose colors that will stand the test of time, so classic shades are much preferred.
Neutrals – Neutrals like whites, grays, and browns are the most likely to please the congregation since these colors promote a sense of calmness, peace, and stability that parishioners expect from a church. Neutrals create an excellent base for other colors. Moreover, they help highlight the bright accents found in church furnishings, décor, and stained-glass windows. Neutrals will remain the most popular color choice among churches.

Blue – Blue can be a good color choice for painting historic churches as it represents trust and a genuine understanding of faith. A blue-dominated color scheme has increasingly become a popular color among Protestant churches, as well as mosques and synagogues. 

Purple – Purple is a color that is usually linked to royalty. In this case, it represents the kingdom of Christ. Purple goes well for carpeting, church pews, etc. You can also accentuate shades of purple with gray.

Green – Green is considered an exquisite color for a church setting. Bright green symbolizes green, olive green represents neutrality, and sage green represents wisdom. Sage green is the perfect choice for walls since it is close to being neutral.

Red – Red is one of the traditional colors of Christianity as it indicates the presence of the Holy Spirit. Red offers a luxurious appearance and feel. Thus, it looks great on carpets and upholstery. 
Here are some tips to help you pick the ideal color scheme for your church:
Inspect the church interiors, which include its materials (tiles, bricks, wood, etc.) and architectural details. You may also want to consider whether indoor or outdoor light affects the look of the interior. Observe the interiors at different times to see how the colors look differently throughout the day.

Consider your church's practices and values before deciding to add some pops of color. Red and purple are the most popular choices. Red indicates the presence of the Holy Spirit, while purple is often linked to royalty and, in this case, the kingdom of Jesus Christ. Both colors work well as accent colors.

If you're shopping for paints, make sure you have reference photos to help you choose the paint colors at the paint store, hardware store, or home improvement store. 
Every church has its own character, which means that every challenge is unique when it's time to renovate them. The best painters in the Bay Area will help you navigate the challenging process. Custom Painting, Inc. takes the extra step by working with designers and color consultants to ensure you are satisfied in your next church painting and renovation project.