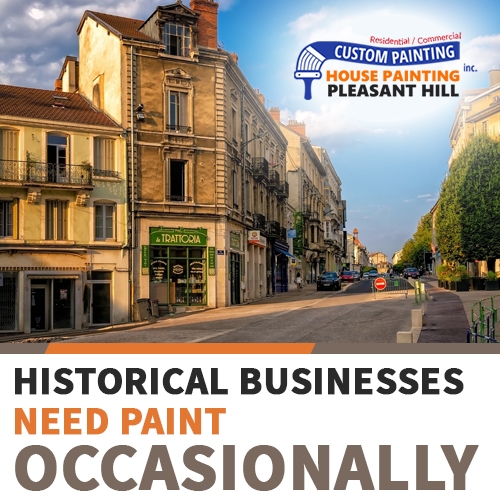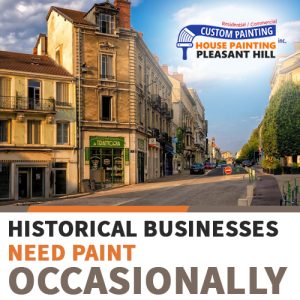 Historic homes, buildings, and landmarks are an essential part of a society's cultural heritage. They serve as reminders of history and serve as part of the culture of any place. In addition, historical sites attract business and tourists and enhance the image of the community, therefore contributing to the local economy.
However, preserving historical buildings presents a unique challenge, even to experienced commercial painters near me in Pleasant Hill, CA. These historical buildings require special attention and care to maintain their structural integrity, preserve their historical significance, and protect their original aesthetic appeal for the coming generations. 
The original designs and colors of historical commercial buildings fade over time. The paint may fade, chip, crack, or peel, and these buildings may lose their historical and aesthetic appeal.
Restoring historical businesses with paint
Painting the interior or exterior of any commercial building may restore its look and appeal. But in the case of historic commercial buildings, it may turn out to be more complicated than you initially anticipated. 
Restoring historical businesses in a town or city requires meeting the standards established by the local historical board. Therefore, you need specific restoration techniques and even paint products as specified by these historical board standards.
Each state or county establishes its own set of guidelines, which usually outline restrictions in regard to modifications to the interior and exterior of a historical establishment. You may have to submit an application to obtain a certificate of approval before you can carry out any renovation or remodeling work.
Moreover, any restoration project requires historic paint investigation and analysis because it is an essential and natural step in the restoration process. This initial step may be costly, but absolutely necessary, that will bring immense value and information to a restoration project. Along with research, historic paint analysis can help reveal the building's original color schemes and decorative details. 
The purpose of historic paint investigation, analysis, and research is to help restore a historical building's original appearance, design, and color. These are essential steps in preserving its historical value and character. Moreover, historic paint analysis also helps researchers to determine whether the paints used were made from hazardous chemicals as ingredients. For example, lead used to be the main ingredient of paint products way back. Addressing lead hazards in historic buildings may be required so that commercial painters will be able to deal with lead paints accordingly, even if that means removing or replacing significant historic features.
Besides aesthetic benefits, paint restoration also helps to maintain a historical building's structural health and integrity. Decades- and centuries-old buildings are most likely to suffer from a lot of various defects over time due to environmental factors and human activity. Moisture, humidity, as well as some indiscriminate human activity, can cause damage to the building's interior and exterior. 
The seriousness of the damage can vary and include such common issues as flaking or peeling paint, delamination, efflorescence, mold and mildew, dry rot, rust, or water damage. Water damage, in particular, may cause major problems not only with the paint itself but also with the layers of material underneath the paint.
Early detection of water damage can help prevent extensive damage. Surface preparation and repairs prior to painting can help prevent water damage, protect the building's structure and extend its lifespan.
By uncovering, restoring, and maintaining the original colors and designs of these historical establishments, we can honor the architectural style of the past, protect and preserve their structure, and maintain their historical and cultural value.
The paints used in restoring commercial buildings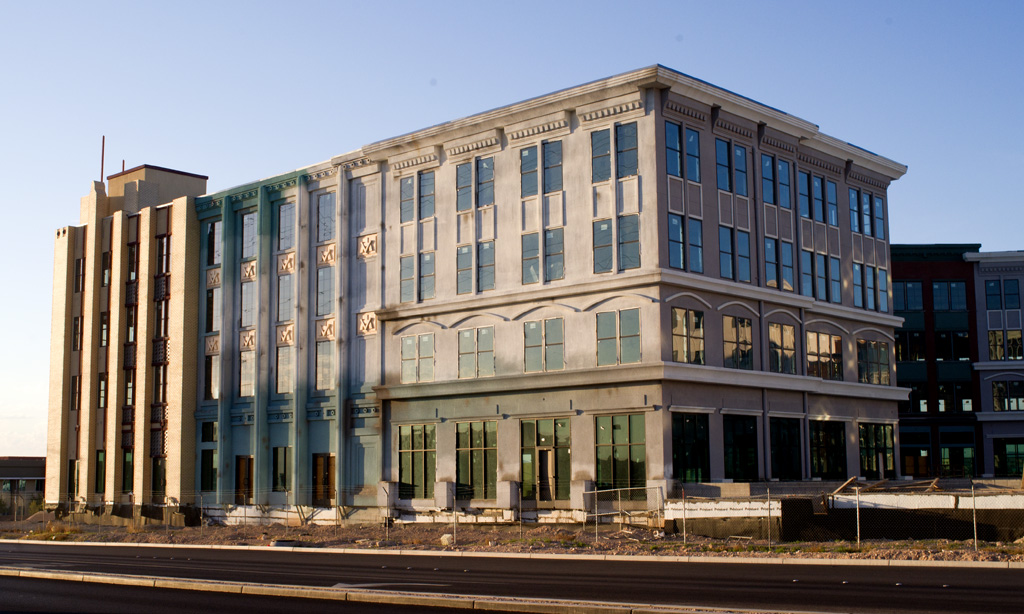 You are probably curious to know about the type of paints used in commercial building restorations. Researchers and professional painting contractors determine the type of paint in historical buildings to help them replicate the appearance of their original color and design. 
There's no doubt that today's paint products have come a long way from the paints used by our ancestors. It is possible today to replicate the original colors and designs of historical establishments while making them a lot safer for the occupants, visitors, and the environment. Today's paints commonly used for commercial buildings include latex, acrylic, and elastomeric, all of which are considered generally safe. In addition, these paints have superior performance and color retention compared to the paints used by our ancestors.
The local historical board may work with a handful of paint companies to develop a unique range of paint formulas and colors that they use to restore historical buildings. To achieve the best results, the painting contractor must follow a preservation process first and then use commercial paint that will help bring back a historical building's original appearance and beauty. 
Maintaining a historical building is no easy feat. It requires research and analysis, which play a vital role in the restoration process. However, restoration is a simple but powerful way of preserving the building's history and beauty.
By using high-quality materials and applying traditional painting techniques, paint restoration can be an effective way to ensure that a building's past and future are preserved and protected. 
If you own or manage a historical business property, you are aware that starting the restoration journey is a long road ahead. It is a daunting and perhaps even risky undertaking when you venture to it alone. That is why it's always recommended to hire an experienced conservator, together with the best painters in the Bay Area, to help you perform appropriate actions and ensure that the highest-quality restoration work is completed and the historical buildings are maintained. 
When hiring a commercial painting contractor, be sure that they have extensive experience in restoring old buildings. Custom Painting, Inc. has a highly skilled team experienced in both painting and construction and is knowledgeable about working in restoring historical residential and commercial buildings. If you know anyone who is in need of paint restoration services, please get in touch with an affordable interior painter near me in Pleasant Hill, CA, and request a restoration and paint job estimate. Custom Painting Inc.'s estimate is always provided free of charge!