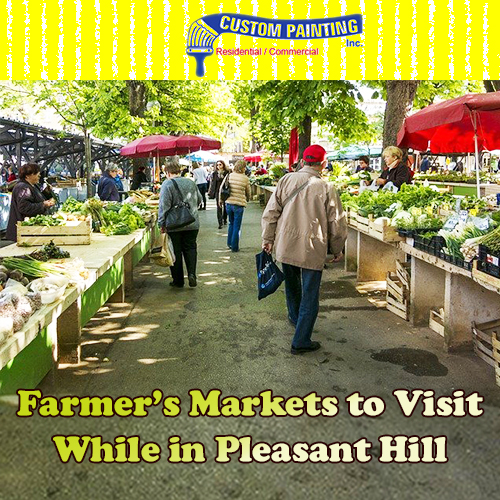 When in Pleasant Hill, one of the things you must do is to check out the farmers' markets. From savoring produce that are in season to meeting the folks who grow and sell your food, there are several reasons why you should support farmers markets.
At a farmers' market, you get to enjoy fresh, real flavors of seasonal fruits and vegetables and enjoy a variety of goods and other artisanal products displayed at booths or stalls. Produce at farmers' markets are known to be reasonably priced, organic, and ethically grown and raised so you'll get the best and freshest taste of their produce. You can also enjoy a variety of handmade and artisanal food items such as local honey, handmade breads and cheeses, wine, condiments, and many others.
A farmers' market is also a community hub – a place to meet wonderful people or just get a taste of the small-town life in the midst of the big city. The location is usually convenient, especially for the locals who live around the neighborhood.
You can find several farmers' markets in Pleasant Hill and surrounding areas:
Here are some of the farmers' markets in and near Pleasant Hill:
Pleasant Hill Farmers' Market
Located at Downtown Plaza, Pleasant Hill Market offers the local community fresh, organic, and seasonal produce, bulk goods, wine, and artisanal/specialty local grocery items such as bread, honey, and a variety of other grocery products.
It is a family-owned business that thrives on quality both in their products and service.
Contra Costa Certified Farmers' Markets, Inc.
Contra Costa Certified Farmers' Markets (CCFM) was established in 1982. Since then, it has been providing fresh and nutritious locally grown fruits and vegetables to consumers – straight from the farm. It provides a gathering place where local consumers can meet local farmers and sellers. The direct connection allows consumers to communicate directly with local farmers and helps them gain an understanding of importance of fresh, locally grown, and sourced food.
CCFM holds one-year-round market in Walnut Creek (every Sunday) and seasonal markets in Lafayette, Orinda, and Martinez.
Pleasant Hill Farmers' Market
Pleasant Hill Farmers' Market is held on Trelany Road every Saturday, from May through November. Aside from the countless stalls displaying organic, fresh, straight-from-the farm produce and artisanal items, this event also hosts live music and fun special events to make your shopping an even better experience.
Farmers and store owners are usually fine with luring consumers with their tempting displays of colorful fruits, vegetables, spices, artisanal products, etc. Some businesses, however, are not content with just open displays of their wares. They would put up eye-catching storefronts that instantly attract shoppers. While some businesses go the extra mile by putting many bells and whistles to attract customers, others believe that it only takes is a good coat of paint to achieve this result.
Your business, big or small, is an investment. It's better to take good care of it so that it will thrive and prosper for many years to come. Thus, it's wiser to hire professional painters to make your business eye-catching to consumers.
If you're looking for commercial painters to make your business more attractive to your patrons, Custom Painting, Inc. will heed your call! It has been providing quality paint services to homes and businesses in Pleasant Hill and other cities and towns in the Bay Area since 1982.
Custom Painting, Inc. is a fully licensed and insured paint service company. We will exceed your expectations for commercial painting with our quality and professionalism when you need to change, update, or enhance the overall look and feel of your business.
When you decide to contact Custom Painting Inc., we will send an estimator from our office to your business. They will walk around and inspect your property, will discuss about your painting needs with you, and will provide you with a free estimate. Contact Custom Painting, Inc., today to set up an appointment.