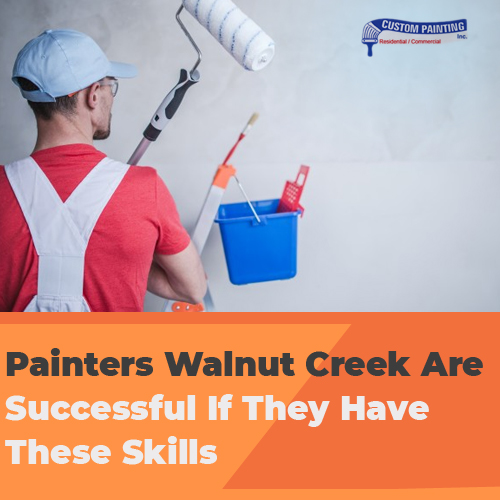 The number of painters in Walnut Creek and nearby areas has been steadily increasing. It can be great news as it gives customers more choices, but it can also be a problem. With so many painters around, which one of them is the best to paint your property?
For many customers, experience and skills are usually the first two things they look for in a painter. The longer their experience in the painting industry, the better. Their years of experience are typically equaled by the range of their skills or mastery of chief skills. Commercial painters can also be skilled in residential or industrial painting.
People do not need a degree or even complete a specialized training program to paint (although it would be an advantage). In some states, painters are not even required to obtain a license. But here in California, a license is a requirement, and anyone must know how to paint correctly to become a licensed painter. Having a license is also an advantage because it helps the painter to gain trust and credibility. Also, a painter must obtain insurance to protect them from any liability in case anything goes wrong.
A painter's chief skills include applying paint, varnishes, primers, and other coatings to various surfaces and materials. Many painters often have a specialty industry – some painters do only residential or business painting, or both. Others specialize in industrial painting – that is, painting in the industrial, automotive, and manufacturing industries, among many others.
One of the keys to finding an ideal painter is to know your needs exactly. If you plan to renovate your home kitchen or have your home's exterior painted with a new color, hire a residential painter. If you want to change your shop's look to attract more clients, hire a commercial painter. For large-scale businesses, factories, manufacturing plants, etc., they usually hire industrial painters.
As you might guess, not all painting jobs are the same – and even the tools and equipment they use. Residential painters use pretty much the same paints and tools that every DIY home painter can have. Except that, of course, residential painters use higher-quality paints and tools to help them deliver a better-looking paint finish.
On the other hand, commercial or business painters may use a different set of paints, tools, and equipment. Many of them use professional-grade paints, primers, and other coatings and use rollers and air sprays for faster paint application. For cleaning and preparing the surface, they usually have power washing or abrasive cleaning methods. Commercial or business painters that deal with larger buildings use scaffolding or lifts that will enable them to paint the higher sections safely.
Industrial painters also use different tools, such as spray equipment, stencils, airbrushes, and special coatings like enamel or lacquer. Depending on the building they're painting, they may also require scaffolding or lifts to paint the higher areas.
To be qualified as a commercial painter of a specialized industry, knowledge of the types of paints and required tools is a must. Because if they are not familiar with these paints and tools, they would not be able to apply and use them properly, resulting in a poorly executed paint job.
But no matter the industry, safety should always be a priority among the workers. Customers prefer painters who wear the proper protective gear and follow the safety guidelines imposed by their own companies and by specific regulatory agencies, such as OHSA. A safer working environment will lead to better efficiency in their jobs.
It is an advantage when a painter offers skills other than applying paints. These skills could include adhering wallpaper, assembling scaffolds, removing popcorn ceilings, custom molding, etc. Customers will see these additional skills as assets and another reason to hire them again the next time they need their services.
It is not enough that a painter should have the technical knowledge and skills alone. A painter should also have excellent communication skills to get a clear understanding of the client's expectations. Good communication skills not only involve active speaking, but they also involve active listening, observing, and empathizing. While the painter can make suggestions, the owner of the property always has the final say.
Strong attention to detail is another trait of a good painter. Being detail-oriented means that painters make sure that they get everything done in their project without leaving errors behind.
Good time management skills are also another characteristic of a good painter. They should be able to balance and prioritize projects in a way that will help them finish their work on schedule while at the same time maintaining a work-and-life balance. Most painters spend a good deal of their day working alone and without direct supervision. This means that painters should be able to work efficiently to get their work completed, without close supervision.
Painting is a physically demanding job that requires carrying heavy tools, climbing ladders, working in unsuitable (and often inhospitable) locations, and standing for long hours. Painters in Walnut Creek should have physical strength, dexterity, balance, and stamina to withstand these situations to perform their jobs properly and efficiently while ensuring their safety at the same time.