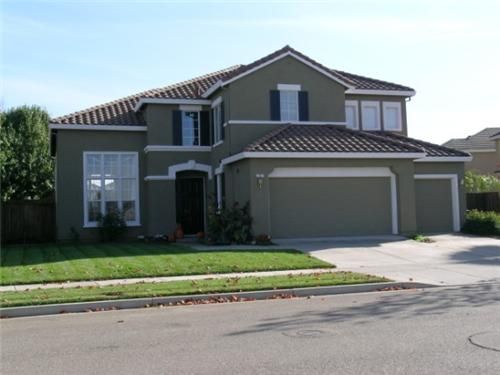 Exterior House Painting in Pleasant Hill Increases Your Home's Value
It's unimaginable that a mere coat of paint can add value to a building. But it is true and has been proven many times. That's why many people choose this route, especially if they're going to sell their home in the future – to do exterior painting in Pleasant Hill.
Painting is a relatively easy and cost-effective way to boost a home's curb appeal. Along with a little tweak on the landscaping in your front yard, you will be able to sell your house quickly.
What is curb appeal? And how does it affect your home and its value?
The term "curb appeal" refers to the attractiveness of a property when viewed from a street. You can stop your neighbors and passers-by at their tracks when they see a home with an impressive curb appeal.
A crisp-looking paint job tells your neighbors and passers-by that you take pride in maintaining your property. What you see on the outside is a good indicator of what it looks like on the inside. So, if your home has a well-maintained and attractive curb appeal, it's very likely that the interiors are well-maintained and beautiful, too.
In selling your home, it's vital to refurbish its interior and exterior appearance. But how will you get potential buyers to check what's inside your home? The answer is to put the "wow" factor to your home's curb appeal by enhancing it. When potential buyers are convinced by just looking at your home's curb appeal, they will likely become more interested in checking out and inspecting the interiors.
According to a 2019 study of homes sold by Zillow, the average cost of updating the paint (interior and exterior) on a home and doing basic landscaping was around $3,000. It looks like a lot of money. But by choosing the right paint colors and finishes, you can quickly get your $3,000 back and even more.
If your goal is to resell your home, you should maximize its value. To optimize your home's value, you should repaint the inside and outside. But it's highly suggested that you add a little "oomph" to your home's exterior to attract potential buyers' attention.
But you don't have to sell your home to improve its curb appeal
Apart from reselling their homes, most people want to repaint the exterior surfaces for the following reasons:
They want to enhance its look
They are tired of the same look and paint colors
They see signs of wear and tear that call for repairs and repainting
Here are the simple but effective tips for repainting your home's exterior:
Always prepare your home's exterior surface before painting:

Clean and wash the surface.
Repair any cracks or holes with a spackling compound and caulk the joints and fissures.
Tape the trim and other areas you don't want to paint.
Cover bushes or hedges with drop cloths to protect them from paint.
Prime the surface if necessary.

Always use high-quality paints, primers, and tools.
To make your home appear bigger, stick to light neutral colors, such as white, cream, and light gray. These colors will provide the desired elegance that will attract potential buyers.
Paint the trim, door and window frames, railings, and other accents with vivid or bold colors. These striking hues will bring out your home's architectural details.
To make a visual statement, you can paint your front door with eye-catching color.
An excellent exterior house painting in Pleasant Hill can fill your home with brightness and positivity. It can also help sell your home quicker. But make sure you hire paint contractors who will give you the benefits of experience, expertise, and professionalism. They can significantly change the look of your home and increase its property value multiple times.