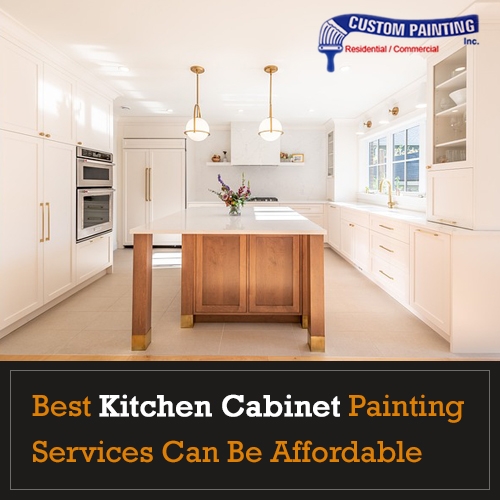 The kitchen is probably the most expensive area to remodel. Cabinets are the most prominent features in the kitchen. So, it is unsurprising that the most significant chunk of the expenses goes to the kitchen cabinets. Installing new cabinetry requires a hefty budget. 
If you don't have a considerable budget for kitchen remodeling, paint kitchen cabinets instead. A fresh coat of paint will breathe new life into your dated, dusty, and drab-looking kitchen cabinets, making them look sleek, fabulous, and brand new. Painting is also a more affordable alternative to cabinet refacing. You may choose to DIY paint your cabinets, but if you want a seamless finish, hire the best kitchen cabinet painting services in your area. 
Why should you hire a professional to paint your kitchen cabinets?
There are pros and cons of painting kitchen cabinets by yourself. You can save money and enjoy your newly painted kitchen cabinets with the right materials and techniques.
But if you value your rest and leisure time, the project may cost you much more. Painting kitchen cabinets is pretty different from painting walls, so you may also need skills and patience to complete the work. Depending on how many cabinets your kitchen has or how complex their designs are, it can take weeks to finish. But with a professional painting contractor, you are guaranteed quality work in a shorter length of time.
1) Pros will get the job done right the first time.
Since they've done a lot of countless home painting projects, the pros have acquired the skills and experience needed to complete the work fast, efficiently, and on time, leaving only a little or no room for error. In addition, hiring a pro will save you from the hassles and headaches that typically come with DIY painting.
2) Painting tools and equipment can be costly.
Some cabinets feature complex designs, which require the use of a paint sprayer. A quality paint sprayer is costly, and you'll only use it once for your project, stash it away, and then forget about it. It's a waste of money. 
By hiring a professional paint contractor, you don't have to spend on quality paints and materials because they'll be the ones to bring them to your project. Ultimately, you'll save a lot of money without sacrificing quality results.
3) Pros offer a warranty for their work.
When a painting contractor provides you with a written warranty for the project, they stand by the quality of their work. Having a warranty in writing means you are assured of repairs for free or a small fee in case something goes wrong with the finished work within the warranty period.
4) Pros offer high-quality results.
One of the best things about hiring a professional paint contractor is that you are assured of a high-quality finish. Besides being skilled and experienced, these pros are also keen on details. They will bring out these qualities to deliver a flawless, seamless, and durable finish to your kitchen cabinets.
Please note that not all painters can tackle cabinet painting. So, if you want only your kitchen cabinets done, ask the painting contractors in your area whether they also paint kitchen cabinets or specialize only in that area. Then they will give you a quote – you should ask for quotes from at least three to five painters – that will help you determine the right candidate for your project. 
You can also request painters for their portfolios. Reputable painters will be happy and proud to show you several samples of their work. By looking at the pictures (and even some video clips) and comparing them with the other contractors, you will know if a painter is skilled and has keen attention to detail. 
Leaving the job to the pros can be the best decision ever, as they offer the best kitchen cabinet painting services you won't regret. If you've made that decision, contact Custom Painting, Inc. Our over four decades of experience in the industry, commitment to quality work, unparalleled customer service, and solid reputation speak for us. Contact us today for a free consultation and estimate – we are here to help!