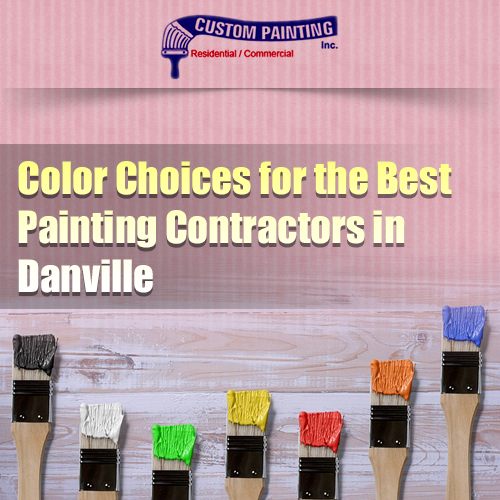 The best painting contractors in Danville have the skills, training, and experience to transform your room into a brand new and more livable space. When it comes to choosing a paint color to your space, you may want to seek these contractors for their expert advice and suggestions. However, you should also consider your tastes. After all, it is your space, and it should reflect your personality. So, it is like striking the perfect balance when it comes to paint color decisions.
Probably the biggest challenge when choosing the ideal paint color is the overwhelming number of paint colors – every paint brand has its own line of different colors and hues. You step into a paint shop and are likely to spend at least an hour browsing through a wide range of color options. You can't really decide at once if this or that certain color will look good in your room.
Fortunately, the Internet is a vast source of information, and you can find helpful tips there on how to choose the perfect colors for your interiors. If you are in such a situation right now, you have come to the right place! The following are the three tried-and-true tips to achieve the ideal paint color to adorn your interior space.
1. Start with the colors your love
Everyone has his or her own favorite colors. When you start with your favorite colors, you will not be restricted by the conventional color schemes to carry out your own interior decorating style. You can use one of your favorite colors as your base color, then create a color scheme around it. You can also ask for professional advice regarding the other colors that will match well to your base color. These "other colors" do not necessarily mean paint colors – they can also mean furniture pieces and décor with interesting color accents. Adding accent colors will create a harmonious look, bring out the little details and provide visual interest to your own space.
2.  Look for paint color inspiration
Architecture and interior style magazines, websites and catalogs have been the major sources of color and decorating inspiration. Social media sites such as Instagram or Pinterest offer different interior decorating styles that range from the charmingly vintage to the edgily contemporary. If you hit "like" or "double-tap" on a post featuring a reading room with teal walls, white window frames and trim, and lime green carpet, you want to recreate that kind of look to your own living room or office as much as possible.
3. Consider the size of your space
Unless you want to add a wall or take it off, there isn't much that you can do to change the actual dimensions of your space. However, you can make it appear big and bright on one hand, or snug and cozy on the other, just by doing a simple trick: painting the walls with the right color.
This is the classic rule of thumb when it comes to choosing paint colors – choose brighter colors for small spaces to make them appear larger, or darker colors to make spacious rooms appear smaller.
Bright colors tend to bounce off light, making a small space to look bigger and brighter. You cannot go wrong with the neutrals such as white and beige. Can you believe that there are other several shades of white? Some of those include eggshell, ivory, vanilla, snow and even something called Navajo white. Play up with any of those neutrals so that your room will still appear big and bright without looking cold and clinical. Add to your room with a pop of color such as a forest green door, or scarlet-colored throw pillows to create clever and interesting contrasts.
Dark colors tend to absorb light, making a large space to look smaller. While you do not want to shut all the doors and windows and illuminate the room with indoor lamps, you certainly want to create a space that's more snug, cozy and soothing to the eyes. Choose rich and dark colors such as chocolate brown or forest green. Go for a flat paint finish as it does not reflect a lot of light and glare. You may want to maintain the calm color scheme by adding vivid reds or rich purples or add interesting contrasts such as white for the trim and furniture.
The best painting contractors in Danville will always be there whenever you need expert painting advice – whether it is about the proper preparation of the surfaces before painting or choosing the right paint colors and shades. They will even help you in achieving the interior decorating style you have been dreaming about!