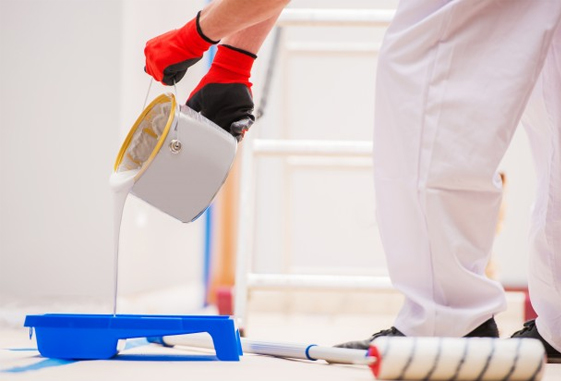 Accessibility is an important thing, especially for business establishments, because they will be able to serve their customers fast and efficiently. But there comes a time when businesses themselves need a certain service, such as painting, to renovate their establishment. They would ask, "Are there commercial painters in San Leandro and elsewhere?"
As you can see, businesses also need commercial painters to make their establishment looking better. Every owner is conscious of the image of his or her company. Not only do they want to make their business model and vision looking good, but also on the more physical aspects of it. If they don't look good, they won't be able to attract potential clients.
If business owners do find painters near them, now they should focus on the more important part: assessing each of these shortlisted candidates, to see whether they will be worth hiring.
1. Do a background check on the contractor and its employees
In general, people prefer companies who have years of experience and have built a solid reputation in the industry. It's not wise to hire companies who are inexperienced or anonymous, or contractors with a questionable track record.
There are new contractors out there though who have quickly built a good reputation. But before you are bent on hiring these companies, you should do a thorough background check on them, nevertheless.
There are many things to scrutinize about potential contractors. Do they arrive on time? Do they wear their own uniforms, or drive in vehicles with the company logo printed on them? Do they arrive at all? Do they exhibit a professional behavior towards their clients? Do they use paints and tools of good quality? Do they employ their own workers or do they otherwise subcontract (contractors who have their own workers is always preferable)? Do they clean up after themselves and dispose of their wastes properly? If you get mostly satisfactory answers, then you may proceed to your next step towards hiring an ideal contractor.
2. Hire a licensed contractor
In California, businesses and some certain professionals should be licensed to operate legitimately. When they're licensed, they should also be insured, as they are also required to obtain specific insurances such as a liability insurance or a worker's compensation insurance. The medical and hospital expenses of the employees who have been injured on the job are covered by their contractors.
What happens if you hire an unlicensed and uninsured contractor? In case the workers were injured, you will be the one to shoulder their hospital bills. They could even sue you for the lost wages since they work at your business property. Unlicensed and uninsured contractors may even commit crimes (like robbery) at your property, which puts a burden to your business insurance policy.
Some companies may claim that they're licensed and insured, but it's better to ask them for proofs of licensing and insurance to confirm whether they're real and valid. You don't want to get yourself into trouble because of hiring individuals or groups pretending to be licensed and insured painting contractors.
3. Hire a contractor who provides a list of references, contracts and written warranties of their work
When a contractor provides not just any, but all these documents, it is a good indication that the contractor is indeed a reputable one.
When a contractor provides a list of customer references for recently completed painting projects, it means that he is confident of his work and is indicative of his consistency. But to make sure that his references are genuine customers – and not his friends or relatives – ask the references about the finished project that the contractor has provided them. If the reference doesn't know the details or gives questionable answers, be skeptical.
A written contract will help in preventing future problems and "blame game" in case the project doesn't go well, or in case the worker commits a malpractice. It helps to read thoroughly what's in the contract; if you find things in the contract that are questionable or need to be cleared, you can discuss them with your contractor.
A written warranty, on the other hand, includes the things that a contractor usually covers as well as those that they don't cover. It is also indicative that the contractor is ready to fix problems as a result of his poor workmanship, as long as they're included in the warranty.
You may easily spot commercial painters in San Leandro and nearby, but hiring the right one will take some work. But when you finally find an ideal painting contractor who has them all – valid licenses, insurance, pertinent documents, a wealth of experience and a good record of customer relations, apart from convenience – then it's worth all the effort.