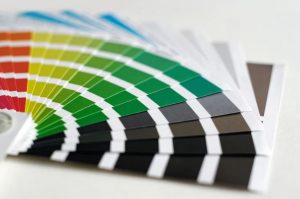 You have decided that it's time for house painting in Pleasant Hill. Whether you've just bought a new home or are intent on re-modeling your old house, it all boils down in careful planning including selecting the right color scheme for your home.
Getting to plan a new interior, or re-decorating your home, can be fun and exciting. But it can also bring concerns and anxieties. You may think that having a blank palette and choosing any color you want would enjoyable. But in truth, choosing a color palette for your rooms can be as worrisome as re-decorating. It's much more difficult than you may think.
Unless you really know your color scheme, chances are you may be lost in starting to paint your own house's interior, and you're not alone having this problem. The paint store's color chip aisle is not the best place to start in choosing the color palette. If you're not sure about the color palette you'd be picking for your home, consider first your needs and personality. Acknowledge the fact that you really don't want to live in a showroom. Choose the colors that will make you feel welcome, relaxed, and really at home, along with being easy on the eyes. It's recommended that every family member should contribute their own ideas regarding choosing the home's color scheme.
Many people get their home interior decorating ideas by flipping through magazines or furniture catalogs. They also derive some inspiration by browsing on the Internet. When you browse through a magazine and find a sample room that appeals to you, hold the page several feet away from you and decide if this color scheme would work in your entire room.
An idea is to visit a furniture store and find if they have any showrooms. A stroll at the department store is also a good place to get a feel for room colors; chances are they also have these small areas that are built to look like rooms. You may also get inspiration by visiting the homes of your friends, neighbors or relatives. Recall which of their houses made you feel comfortable. Another good idea is to visit model houses in new subdivisions and check out what color palette is new and popular in the Pleasant Hills area.
After finally deciding on the color palette, the next move is to accept some things that you can't change. For instance, if you're stuck with a stone floor with a green covering, or some furniture or fixtures of a certain custom color that must displayed (whether you like it or not), you can use color-coordination to play down their effects. However, it is best if you work with them rather than against them. You may also consider the colors of your current furniture, curtains, drapes, or other fabrics so that you can form your color scheme from your own belongings.
Even if you've decided on a color scheme for your room, it's not yet the time to go to the paint store just yet. Paint colors are the easiest thing in this whole project to get it right. You can match colors by working with it on the computer, or comparing the colors of your fabrics and things like countertops and sinks. Countertops and sinks in particular may not come in every color, but are available in a variety of hues. You can also pick out sample chips.
When you've followed all these steps, you may now enjoy looking at available paint colors. Pre-planning will help you enjoy a worry-free, stress-free house painting in Pleasant Hill.